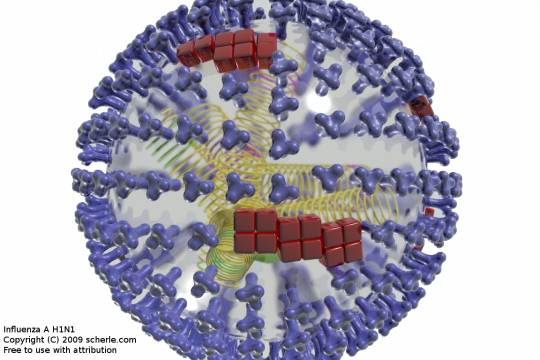 Last week my son was down with the flu. He got diagnosed with influenza A. He was terribly sick having more than 39°C fever for more than 4 days and was staying at home for 10 days before he was able to go to preschool again.
My daughter didn't get sick. Neither did my wife nor did I. Guess why? Because we got the seasonal flu shot. Here in Finland, the seasonal flu vaccine is free of charge for infants between 6 and 35 months, senior citizens 65 years or older, pregnant women and those with chronic diseases or medication that put them at higher risk for a severe disease or complications. Additonally, many employers offer free flu shots for their employees.
Because my son doesn't belong to any of those that gets the shot for free and because he strongly opposed to the shot and because the risk of infection for unvaccinated individuals for any given year is maybe only 5%, we let him go unvaccinated. Bad decision. There is a very good article about flu vaccinations on the Science-based Medicine blog and a very good podcast by pediacast.org about the topic. Unfortunately the flu mist (the vaccination that is inhaled as opposed to be injected) was not yet available on the Finnish market for the 2011/2012 flu season. Flu mist is produced by MedImmune, a subsidiary of AstraZeneca. According to my health care provider Mehiläinen the intranasal vaccine will be very likely available in Finland for the next flu season. The vaccine's name will be Fluenz, under which it has been approved for by the European Medicins Agency in 2011 for the whole European Union.
My son just opposed the injection, not the flu vaccine per se. Flu mist is as effective as the flu shot and it might even confer better protection compared to the shot. That makes sense, because the antigen enters via a natural route. And since it is a life vaccine, the immune response might be better and more sustained.
Maybe my employer's health care provider Mehiläinen should offer also free seasonal flu shots for the children of employees, because despite being vaccinated, I missed several days of work because I had to take care of my son.